"Arnie Dufner and the Purple Principal!"
Signed copies of "Arnie Dufner and the Purple Principal!"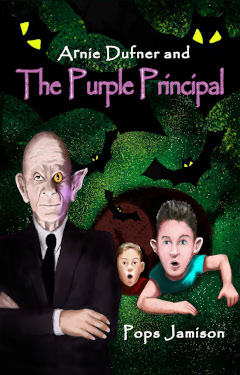 There are three options for purchasing signed copies of the book.
A note about shipping.
We use the 'media rate' to get the best price possible, but it still adds up. if you live nearby in Central Illinois, consider using the third option for getting your signed copy!
Whichever option you choose, be sure to give us your address, and the name of the person or persons you want the book signed for.
Option 1: Purchase the book for $5.95, plus $6.00 shipping.
Option 2: Email us a copy of your receipt for the Kindle eBook version, and purchase a signed copy of the paperback version for $4.95, plus $6.00 shipping.
(You get a discount on the books and at the same time help us with our numbers on Amazon. THANK YOU!)
(Email a copy of your eBook receipt to: contact@imagilearning.com)
Discount with eBook Purchase!
Option 3: Contact us directly to arrange a way to pick-up your book locally and save the shipping costs!
You can email us at: contact@imagilearning.com or contact us on Facebook: @jamisonbooks